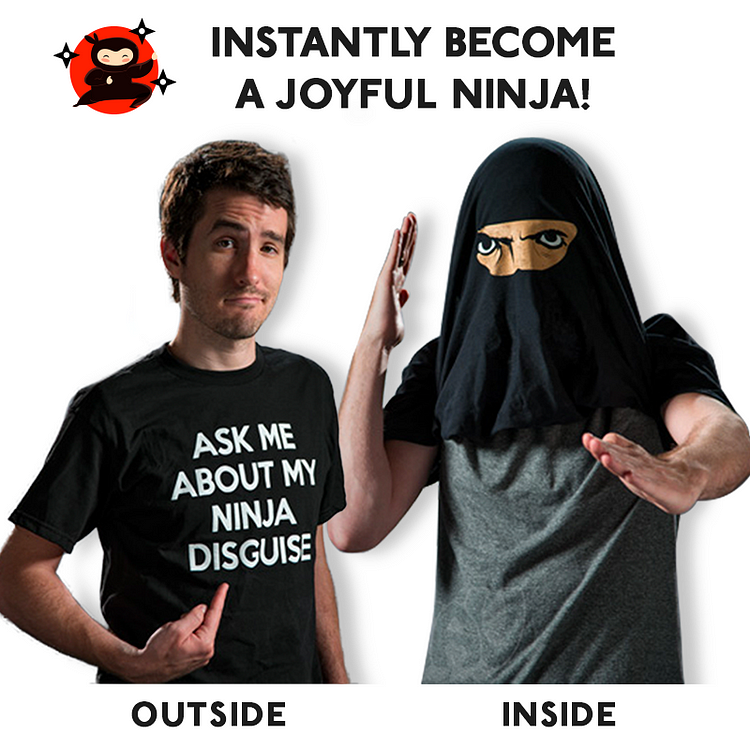 NinjShirt

-

Flip it over your head and BOOM! Instant Ninja Warrior!
Attention grabber
Funny NinjShirt is an attention grabber on all occasions, great for cosplay, party or everyday wear.
Soft & comfortable material
Introducing our comfortable and relaxing NinjShirt, made with a soft and breathable fabric, this T-shirt is gentle on the skin and easy to wear. Its high-quality fabric ensures it will last for multiple washes and wears, making it a great value for those on a fixed income.
Perfect for cosplaying
The ninja T-shirt is all black with text on the outside. However, when someone looks at you from the ninja side, they will be surprised and filled with funny and exciting feelings.
Funny gift idea
The funniest and the cutest gift for your friends, families, classmates and so on! A chicken legs party with all your loved ones for the funniest night of your life!
Wide range of size
Our high-quality stretchy fabrics ensure a perfect holiday costume fit for the whole family, without size worries for both men and women.
Specifications
Material: 95% polyester 5% spandex
Colour: Black, Gray
Product size: XS, S, M, L, XL, 20XL, 3XL, 4XL
Weight: 210g