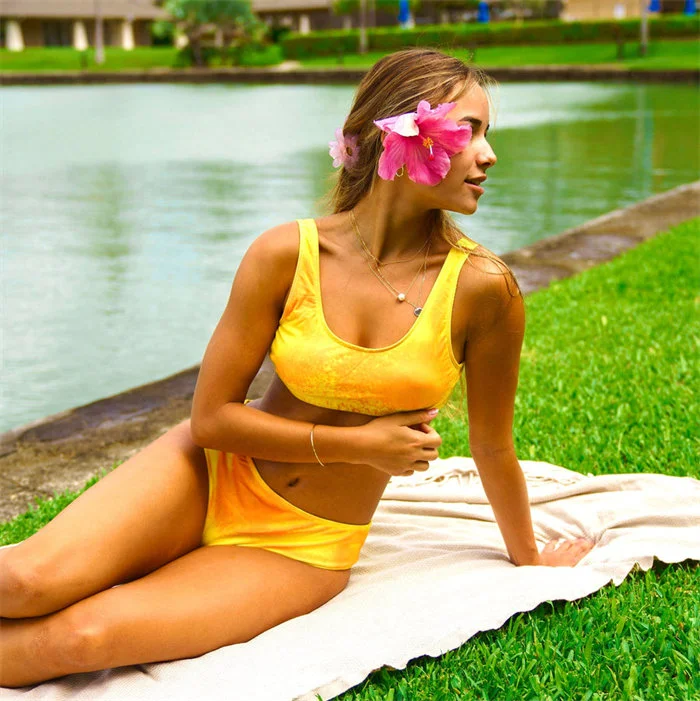 Please make sure to read the sizing notes below as well

| | | | | |
| --- | --- | --- | --- | --- |
| SIZE | CUP SIZE | BUST SIZE | WAIST | HIP SIZE |
| SX | A | 30-32" | 23-25" | 32-33" |
| S | A/B | 32-34" | 26-28" | 34-35" |
| M | B/C | 34-36" | 28-30" | 35-36" |
| L | C/D | 36-38" | 30-32" | 36-38" |
| XL | D | 38-39" | 32-34" | 39-40" |
Our swimsuits change to one color in warm temperatures and back to the other in colder temperatures!
Heat reactive fabric allows for color changes
Removable padded inserts on all colors
Just modest enough bottoms, see pictures for reference!
Metal sliders and two loops for adjusting
Quick-drying technology
FAQ
HOW DO I CONTACT YOUR COMPANY IF MY QUESTION WAS NOT ANSWERED?
Please email us at serviece@mail.eunicee.com (24 hrs reply). We'd be more than happy to help with whatever you need!
WHAT IS YOUR RETURN/ EXCHANGE POLICY?

Check out "Refunds & Exchanges" in the drop-down menu.
HOW DO I MAKE SURE I ORDER THE RIGHT SIZE?
There is a size guide in the product page's description tabs! Please make to check the size guide as the fitting may vary. Most customers order a size up!
WHAT ARE THE SHIPPING OPTIONS?
Orders can range from 10 days to over a month depending on the country with COVID- 19 restrictions. You'll see this information for your country at checkout before you pay! :)
ARE THEY MACHINE WASHABLE?
Yes, just try to do a cold water quick wash with little to no detergent if possible and machine dry after!
WHAT IF MY SWIMSUIT DOESN'T WORK?
If your swimsuit comes and is not changing color when you put them underwater, it is probably a temperature issue. As we state in our instructions email, our swimwear changes from above or below 82°F to the opposite color, so it is important to get the products to the proper temperature for the change to occur. If warming them up does not work by just putting them on, try throwing them in the dryer or pouring cold water on them, and following with a splash of hot water. Please do not hesitate to email us at serviece@mail.eunicee.com if you have any questions regarding the functionality of the swimsuits.
WHAT SHOULD I DO IF I NEVER RECEIVE MY ORDER?
We rarely have issues with delivery, but if you do not receive your apparel within 4 weeks of ordering and or do not have a tracking number, please contact us and we can easily assist you in finding a solution.
HOW IS THE PRODUCT MADE?
Our trunks and bikinis are made from our signature heat-sensing fabric that allows for the swimsuit to dramatically change colors with changes in temperature but also remain ultra-durable for any activities.
HOW DO I KEEP MY SWIMSUITS IN GOOD CONDITION?

Avoid sun drying the swimsuits! Machine drying is the optimal way to dry them as UV rays can be harmful if the swimsuit is exposed for a long duration of time. Other than sun damage, our swimsuits are pretty darn sturdy!
Shipping Time
🔥Our current turnaround time is running 3-5 business days. Although some of the items are made ahead, due to the high volume of orders, shipping times are longer than usual. If I have the item ordered in stock I will mail it out as soon as possible!
🚀Standard shipping is $5.99 and takes about 5-10 business days after shipment. There are expedited shipping options.
😉Thank you for your patience. Please let us know if you have any questions.