Normally you have to stand and wait hours of time to fish only one fish. And when you fished one you have to repeat this long process over and over again.
FEATURES
High impact resistant construction & prism construction , more stable.

 The prism construction is very easy to plug into the soil stable which is not spin. Be able to withstand maximum tension to 110 pounds.
Fishing rod holder with spring loaded tip-up action sets your hook automatically.
Line trigger activates

 tip-up only when fish hits the hook - no misfires.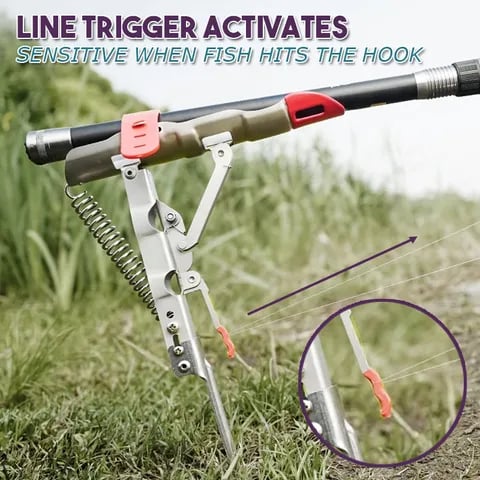 Built-in ground stakes.

 The new design circle plate for the fishing rack holder easier to plug into soil than any other old version. You can put your hand directly on the plate and push it to the soil.
Never rusty & Anti-corrosion.

 All metal construction. This fishing rod holder is totally made of high quality Stainless.
How To Use
1.Pull the handle down.
2.Get down the screw into the card slot.
3.Insert in the ground, put in the rod on rack(already thrown),pull down the handle till locked.
4.Tighten the fishing line on the trigger,sensitivity according to the position you hanging.
5.Waiting for a bite.
6.WARNING: When using, try your best to avoid any parts of the body touching the triangle area.
SPECIFICATIONS
Material: Stainless Steel

Overall Size: 22 in

Ground insert rod length:10 in
PACKAGE INCLUDES
1 xAutomatic Fishing Rod Holder