👉We provide the following promotions for each customer:
Buy 1 get 1 free (Add 2pcs in your Cart)
Buy 2 get 2 free (Add 4pcs in your Cart)+

Free Shipping
Do you only carry your mobile phone and a few other essential things?
The elegant By Selena Clutch wallet is light and stylish and made for a life on the go. You can wear it around your wrist or turn it into a crossbody handbag using the included strap.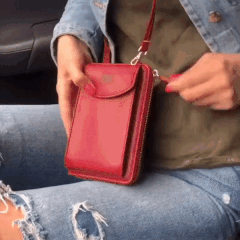 It is smartly designed and has enough room for everything you need: Your mobile phone, several cards, keys, some makeup and other small items.
They are made of soft vegan PU-leather, and thanks to their discreet and timeless design, they will match any outfit.
Product features:
Compact: Ideal for carrying just about everything you need. There's no need to wear a large shoulder bag when you only need a few items. The By Selena Clutch Wallet fits mobile phones of all sizes.
Multiple compartments: It has compartments for your cards, cash and other small items, as well as an external pocket with a convenient push-button to safely store your mobile phone.
Detachable shoulder strap: Turn your Clutch into a crossbody bag with the included strap or carry it around your wrist.
Perfect for any occasion: Thanks to the elegant look and a choice of colors to match your wardrobe, you can always rely on the By Selena Clutch.
Premium quality: Made of soft vegan PU leather, and available in a variety of colors. Finished with a strong polyester fabric, it will keep its shape under all conditions.