FEATURES:
【Better Design】The hook has no sharp corners and is more secure. You will not be injured by accidentally hitting the hook, especially children. The unique long-handled L-shaped design allows for more irregular-shaped items to hang in combination. This hook can be turned into a clothes rack, towel rack, pot lid rack, photo rack, mop rack, wall decoration rack and more. It is used by many people.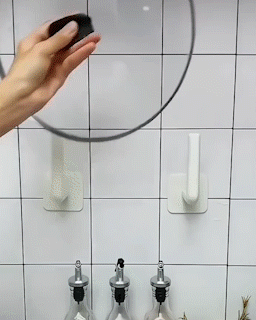 【Multifunctional, Multi-scene Use】You can hang various items on the hook, such as keys, scarves, hats, etc. This hook can be installed on the counter mirror of the door closet, on the wall of the bathroom, bedroom, toilet, kitchen, balcony, patio or as a door handle. You can also this sticky hook to hang coats, drying shoes, towels, shower supplies, toiletries, cups, belts, ties, bags, toilet paper, etc. (If you need to hang heavy objects, please use it after 24 hours of installation, thanks)
【Powerful Load-bearing Capacity】Say goodbye to traditional hooks, our multi-functional wall hooks have a load-bearing capacity of 5KG, cutting the items that can be placed more!
【No Drilling Installation】Firm, no marks, no damage to the wall, ready to stick and tear installation, and easy to hang things temporarily. When Christmas, Easter, Valentine's Day or other holidays come, you certainly don't want to have your walls covered with holes when you want to hang wreaths, Christmas trees and other holiday decorations in a short time.
【Moisture And Peeling Resistance】High-quality nail-free stickers will not fall off even if you use it directly in the bathroom glass.
INSTALLATION STEPS:
Wipe down the walls.

Tear off one side of adhesive backing.

Glue the torn side to the hook.

After pasting the hook, tear the glue on the other side. 5. Affix the glue and press hard to remove air.

Finished, ready to use.
*Installation Tips
1. The material of the sticker is very sticky nano glue. Before installation, wipe with a rag to clean the dust at the installation place
2. Tear off the protective film of nano glue, paste it on the hook, and then squeeze it hard to exhaust the air in the hook and nano glue
3. After installing the hook, tear off the nano-glue protective film on the back, paste it on the wall, and finally squeeze out the air in the wall and the hook by hand!
4. Use on flat, smooth, solid surfaces such as smooth tiles, metal, glass, marble, stainless steel. (Not suitable for white lime plaster walls and rough surfaces!)
SPECIFICATIONS:
Material: PP
Size:12.5X7X2(cm)